---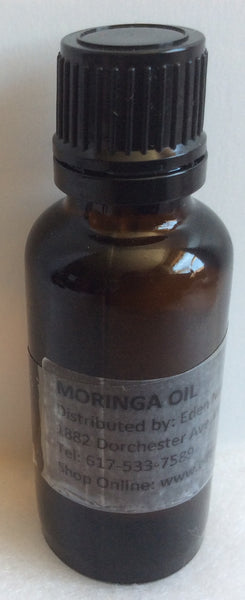 MORINGA OIL - Cold Pressed (1 OZ)
$ 8.49
MORINGA OIL - Cold Pressed
The Moringa tree is referred to as the miracle tree because all parts of the tree are utilized for their considerable nutritive, therapeutic, and skincare benefits.
The nutritive seeds of the Moringa tree contain approximately 40% oil. The beneficial properties of Moringa Oil were documented by ancient cultures. Romans used Moringa Oil extensively in perfumery work, and Egyptians used it to help protect their skin from brutal desert conditions.
Organic Virgin Moringa Oil is also known as Behen Oil because it contains up to 10% Behenic Acid. Behenic Acid is a saturated fat that lends to the stability of the oil and is exceptionally moisturizing to the skin and hair. It is similar in composition to Olive Oil. Organic Virgin Moringa Oil is light and spreads easily on the skin.
Our Organic Virgin Moringa Oil is cold-pressed from premium quality Moringa oleifera seeds and is then gently filtered. It is packaged and stored to maintain the purity, freshness, and beneficial properties of this remarkably nutritive, virgin cold-pressed oil.
Properties:
Highly Stable
Absorbs Quickly
Mild, Nutty Aroma
Light Viscosity
Dark Yellow Hue
Highly Moisturizing
Uses:
Organic Virgin Moringa Oil is a highly stable, penetrating oil. It helps to improve the appearance and radiance of the skin and is a remarkably nutritive addition to facial creams, serums, lip care products, hair products, make-up, after-sun care preparations, shaving products, massage, and other cosmetic formulations. It is a balancing oil and is suitable for dry, oily, and combination skin.
Within hair care applications, Organic Virgin Moringa Oil is regarded as a cleansing oil because it helps to rid the scalp and hair of dirt and foreign residue.
Organic Virgin Moringa Oil is also known for its ability to act as a natural fixative as it helps stabilize volatile and flighty fragrances.
Organic Virgin Moringa Oil is Perfectly Suited for the Following Personal Care Applications:
Skin Care
Lip Care
Hair Care
Nail Care
Aromatherapy
Massage